Politzer Society continues on its increasing trend with the contributions that it offers to World Otology and with the impact that it owns. The meetings that have been organized since more than 30 years gained great prestige.
http://www.politzer2013.org
Temporal Bone Course
Dates:
19 - 20 December 2013
Contact Information:
adr.james@utoronto.ca
Place:
Institute of Pathology, University of Basel, Switzerland
Training level:
Basic, see http://www.orl-bal.info
Two-day event being regularly held. Up to 16 trainees, starting from their second year of training are accepted. Supported by Leica and Storz companies. Temporal bones provided by the Department of Pathology, approved by the Ethics Comittee of the University.

Course director: Prof. Daniel Bodmer, Chairman, ORL Department (dbodmer@uhbs.ch)

Organisation: Prof. Mihael Podvinec for ORL-BAL (m.podvinec@unibas.ch)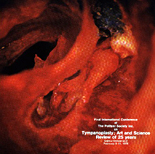 Scientific Content of Previous Meetings
Do you wish to Access to all papers presented in Politzer Society meetings during the last 12 years? Please visit Previous Meetings? page. There, you will be able to find the abstracts of thousands papers.

Forum
Are you looking solutions for what you retrieve? This is the place where you can find comments of distinguished otologists from all over the World.