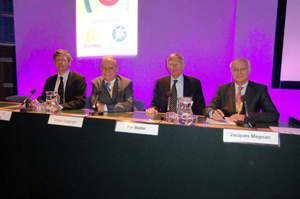 Politzer Prize Committee:
J. Magnan, N. Ozgirgin, P. Moller
and P. Van de Heyning





Prize winners:
Stephane Tringali in clinical science
and Massimo Ralli in basic science

The home 'Otological Society' the British Society of Otology hosted a Focus group on Training in Otology introducing novel ideas for e-learning by Victoria Ward and a Temporal Bone Surgical Simulator by James Powless.

The clinical programme ended with the Hunterian Lecture by David Moffat Cambridge.

The Social programme began before the Conference started with the Golf Championship played at Royal Blackheath Golf Club which had just celebrated its 400th Anniversary. The Claret jug was taken home by Andy Reid.

On the first evening everyone went "next door" to Westminster Abbey for a reception in the Crypt introduced by Andy Reid. Such was the hospitality of the Dean and Chapter that the delegates were able to wander quietly through the Abbey visiting tombs of the English Kings for over a thousand years that were not usually opened to the public.

Friday was a free night for delegates although there was a Presidential Reception and Dinner in the famous Long Room at Lord's Cricket Ground. Delegates non-cricketing nations were first fascinated by the heritage associated with a now truly international sport. An added extra was an exhibition game of "Real Tennis" not lawn tennis but its predecessor still played internationally to professional standards.

Jacques Magnan made his valedictory address and was presented with an antique print of London by a Frenchman! Bruce Black was presented with the score card of the recent England and Australia Cricket match won in great style by England.

The high point of the Social Programme came with the Dinner at Greenwich. Starting with champagne on an open boat travelling up the River Thames Westminster pier to Greenwich where we were welcomed by a Scottish Piper who piped us on shore and up to the magnificent Painted Hall of the Old Royal Naval College with its beautiful decorative ceiling said to be the finest north of the Sistine Chapel. A Military band played during dinner and the best British beef was served. The new President Nuri Ozgirgin gave a seminal address to the Politzer Society on his aspirations for the future which was greeted with approbation and great applause.

He was presented with an antique print of the Naval College as a reminder of the event.

The evening ended with a bravura display on the Post Horn by two soloists in concert opposite ends of the magnificent dining hall.

The Organising Committee led by Andy Reid and consisting of Dan Jiang, Alec Fitzgerald O'Connor, Solomon Abramovich, Simon Baer, Sean Blaney, Michael Kuo, Gavin Morrison and Stephen Toynton were grateful to the Politzer Board for the trust that had been put in them and thank especially Jacques Magnan and Nuri Ozgirgin.